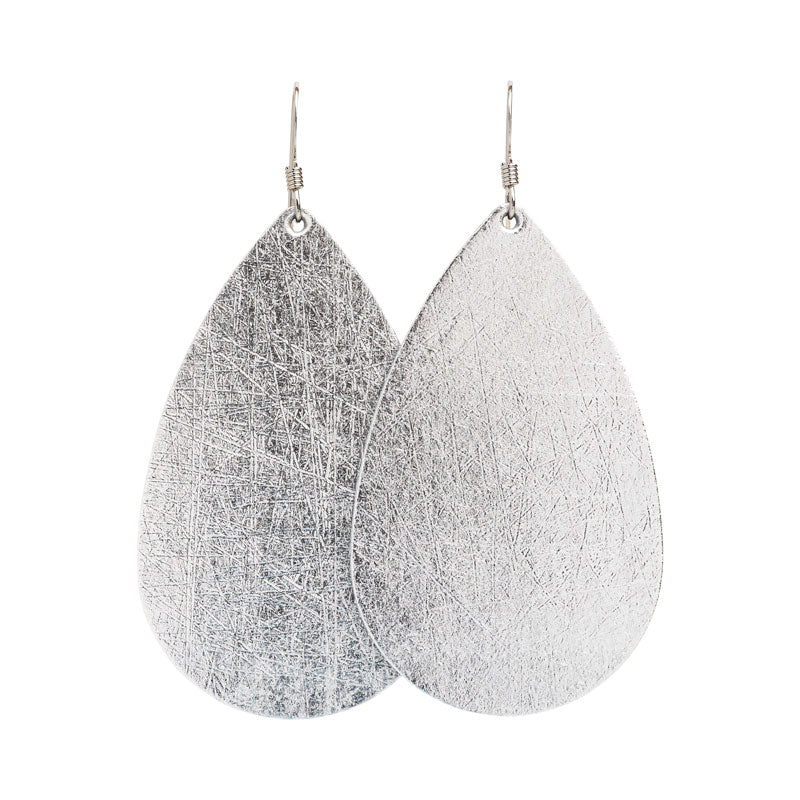 Vintage Silver Teardrops Small Leather Earrings
---
Description

Care & Information
These lightweight earrings feature our smooth metallic Vintage Silver leather. This cool-toned metallic leather effortlessly captures the look and style of metal without the additional weight.
Lightweight/firm

Round resin post with 14K gold-plated components. Nickel free.

One Size (2.5")
About Nickel & Suede
Nickel & Suede is known for being the first to make lightweight leather earrings in their original teardrop shape. They've created a new category in statement jewelry that allows women to wear big accessories in ways they never have before. Customers call their earrings life changing. Not only are their big, bold, statement making pieces comfortable and lightweight, but they also add a level of confidence and courage to the women who wear them. N&S has become a symbol of empowering women to be bold, to take a chance, to know their worth and to change their life for the better.

Whether it's trying a big pair of earrings for the first time or starting a business or chopping off your hair, Nickel & Suede believe that being brave builds confidence and changes "I can't" into "I can!" One small act of courage leads to another and another. It allows you to "become the kind of person who...." does anything! Courage is contagious!

Nickel &Suede leather earrings are made from only the highest quality materials, such as genuine leather and nickel-free metals like 14 karat gold and sterling silver hooks. The design, assembly, and shipping are all done from their Kansas City headquarters.
How do I care for my earrings?
To keep your Nickel & Suede leather earrings in great condition it is best to hang them up or lay them flat for storage. Store your jewelry outside of the bathroom and keep it clear from any water, makeup or hair products. Your Nickel & Suede accessories should be the last thing you put on after getting ready for your day.
All of the products have been treated with a protective sealant to help them stay looking their best.. The suede earrings can also be discolored with water so care should be taken. If an earring gets bent, it can be flattened with a barely warm iron by covering the earring with a cloth or towel and lightly steaming the leather part of the earring (avoiding the hooks) to flatten it. 
We recommend against using essential oils on your leather jewelry. Oils will discolor some leathers and cannot be removed. 
Sterling Silver and gold will naturally tarnish over time and leather can accelerate that process. If you notice any discoloration on the hooks wiping them with a jewelry polishing cloth should shine them back up.
To keep your jewelry looking beautiful, store it in a cloth bag or jewelry box. We encourage our customers to avoid excessive contact with water, lotions, perfumes & chemicals that will deteriorate the quality of the metal and semi-precious stones. It is also best to remove jewelry before sleeping, working out, and physical activity. Please note, tarnishing will accelerate when the above recommendations are not followed. We recommend you clean your pieces with a soft dry jewelry cloth.
Vintage Silver Teardrops Small Leather Earrings
Shipping Information

Fast shipping

Most orders are shipped within 1-3 business days. United States orders take 2-3 business days for delivery when using USPS Priority Mail. Between processing and shipping, you can expect to receive your order in less than a week. However, in most cases, you will receive it in 2-4 business days.

*International orders take 5-10 days for delivery once processed and shipped. 

Order tracking

Check your email upon ordering for email updates about tracking your order.

Get in touch

You can email us at info@nespolijewelers.com or call us at 570-759-9675