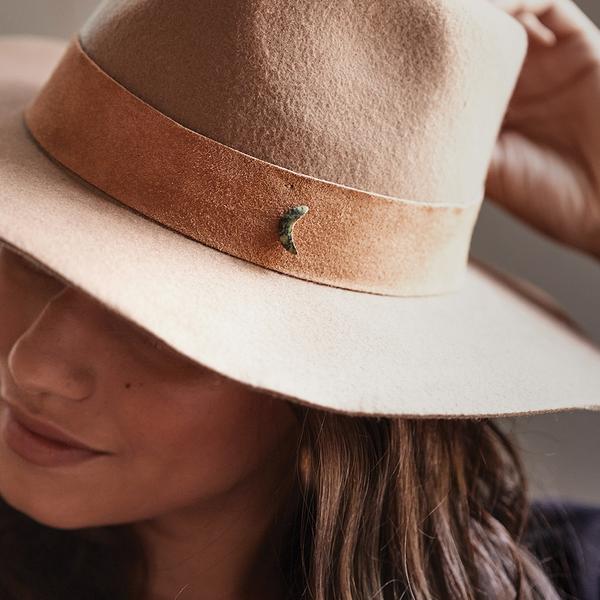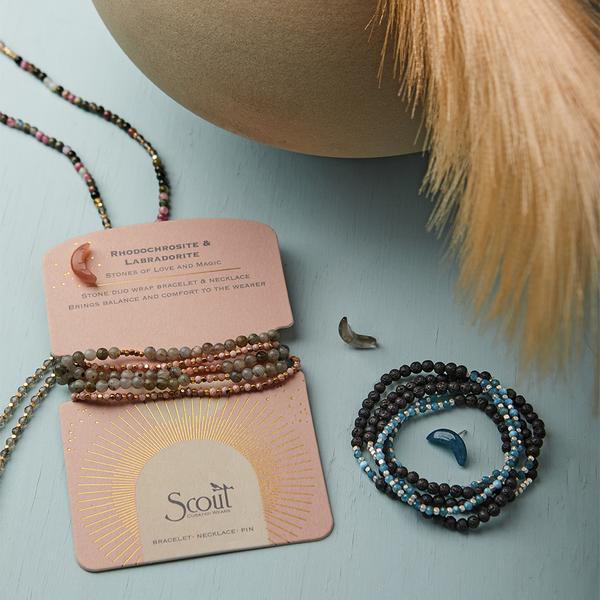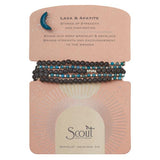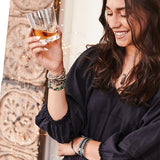 Description

Care & Information
34" length
Transform the wrap into a bracelet or a necklace

Presented on cards that tell the meaning of each stone: Lava & Apatite Stones are know for stones of Strength and Inspiration
 Tap into the energies of the earth. The Stone Wrap is made with semi-precious gemstones and etched metal findings. It can be worn wrapped 4-5 times for a bracelet and 1-2 times for a necklace. Displayed on a beautiful card, this wrap makes a great gift! 
A combination of two gemstones creates a duet of stone power. Wrap as a bracelet or layer as a necklace and pair with the accompanying crescent moon stone pin.
- Materials: Geometric brass beads, 3mm faceted semi-precious beads, 4mm round semi-precious beads, stretch cord and semi-precious crescent moon pin.
- Each bracelet comes with a semi-precious stone crescent moon pin.
To keep your jewelry looking beautiful, store it in a cloth bag or jewelry box. We encourage our customers to avoid excessive contact with water, lotions, perfumes & chemicals that will deteriorate the quality of the metal and semi-precious stones. It is also best to remove jewelry before sleeping, working out, and physical activity. Please note, tarnishing will accelerate when the above recommendations are not followed. We recommend you clean your pieces with a soft dry jewelry cloth.
Lava & Apatite Stone Duo Wrap & Pin
Shipping Information

Fast shipping

Most orders are shipped within 1-3 business days. United States orders take 2-3 business days for delivery when using USPS Priority Mail. Between processing and shipping, you can expect to receive your order in less than a week. However, in most cases, you will receive it in 2-4 business days.

*International orders take 5-10 days for delivery once processed and shipped. 

Order tracking

Check your email upon ordering for email updates about tracking your order.

Get in touch

You can email us at info@nespolijewelers.com or call us at 570-759-9675