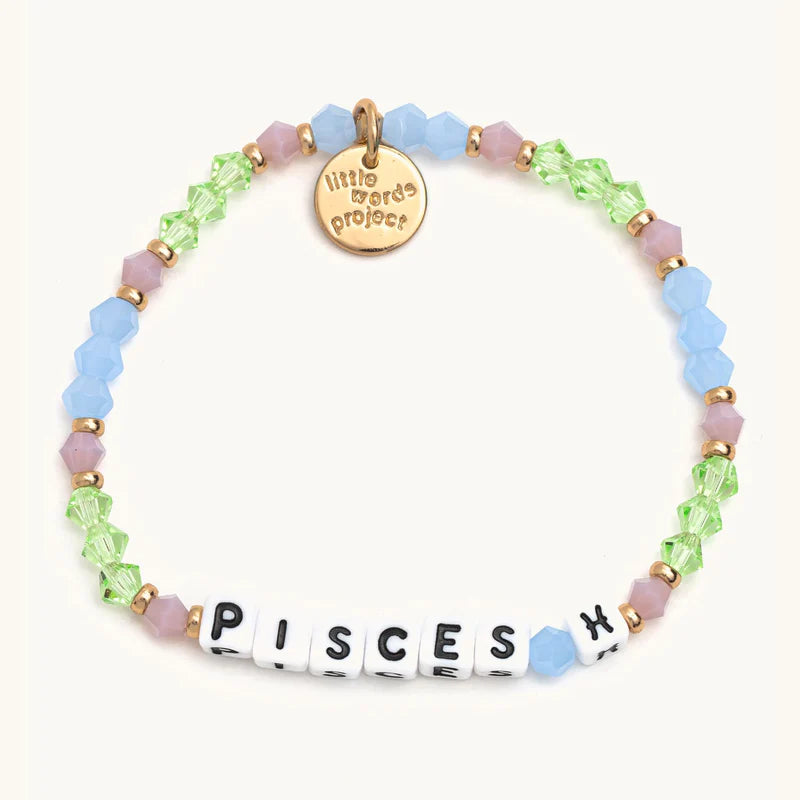 ---
Description

Care & Information
Intuitive, artistic, and kind…you are precisely a Pisces. Add this lovely beaded bracelet to your collection.

Hand-crafted using fine-cut stones and acrylic letter beads

Gold-plated brass hardware
Elastic stretch bracelet
Handle with Care - do not wet


 Little Words Project
Little Words Project® encourages women to both be kind to themselves and to others. The handcrafted bracelets are each made with a different inspirational word. Each bracelet features a tag inscribed with a registration code. This code is used to register your bracelet which enters you into the Nice Girl Gang - a community of women dedicated to building each other up. Wear your Little Word® for as long you need it to remind you of just how freakin' great you are. Eventually, you'll find someone who needs that reminder a little more - and you'll pass it on, so they too can benefit from its message. Not only will it bring her the same good vibes it brought you, but it will also give her access to the Nice Girl community when she registers the same tag number on the Little Words Project® app or website.
Together we can do something positive to Girl World. But remember- it starts with you. Little Words Project® is a community of Nice Girls that believes in some simple truths: 
Supporting women is always the way to go 
Collaboration always wins over competition 
 Kindness builds confidence and fosters self-love
To keep your jewelry looking beautiful, store it in a cloth bag or jewelry box. We encourage our customers to avoid excessive contact with water, lotions, perfumes & chemicals that will deteriorate the quality of the metal and semi-precious stones. It is also best to remove jewelry before sleeping, working out, and physical activity. Please note, tarnishing will accelerate when the above recommendations are not followed. We recommend you clean your pieces with a soft dry jewelry cloth.
Shipping Information

Fast shipping

Most orders are shipped within 1-3 business days. United States orders take 2-3 business days for delivery when using USPS Priority Mail. Between processing and shipping, you can expect to receive your order in less than a week. However, in most cases, you will receive it in 2-4 business days.

*International orders take 5-10 days for delivery once processed and shipped. 

Order tracking

Check your email upon ordering for email updates about tracking your order.

Get in touch

You can email us at info@nespolijewelers.com or call us at 570-759-9675