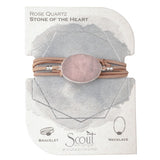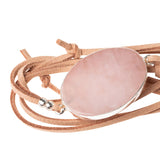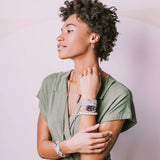 Suede/Stone Wrap - Rose Quartz/Silver/Stone of the Heart
---
Description

Care & Information
Soft buttery vegan suede and rich semi precious stones intertwine around your wrists or neckline. Effortlessly converts from bracelet to necklace.  Can be wrapped 3 times as a bracelet. Sliding magnetic clasp adjusts to wear as a necklace.
- 23.5" length
- Materials: Semi precious gemstone, 14K Gold dipped. Adjustable magnetic clasp on vegan suede. 
- Presented on recycled linen cards that tell the meaning of each stone:



Rose Quartz | Stone of the Heart
About the Brand
In 2014 frustrated by the lack of balance in her life and a desire to spend more time with her two young sons, owner Lora decided to leave her demanding career in the fashion industry. In 2015 the itch to be creative and the life long dream of owning her own business lead her to found Scout. Initially designing and selling gift jewelry online and wholesaling to shops in the northeast, Scout has rapidly expanded across the United States. Quickly outgrowing Lora's in-home operation, Scout moved to a beautifully refurbished mill building where a small team works to bring you lovely jewelry.


Giving Back

10% for women - As a company founded and led by women we highly value promoting women and families. We believe that all women have the right to reach their full potential. When women have the tools to succeed, everyone benefits. That's why we pledge to give 10% of net profits to organizations that help support and promote women.




To keep your jewelry looking beautiful, store it in a cloth bag or jewelry box. We encourage our customers to avoid excessive contact with water, lotions, perfumes & chemicals that will deteriorate the quality of the metal and semi-precious stones. It is also best to remove jewelry before sleeping, working out, and physical activity. Please note, tarnishing will accelerate when the above recommendations are not followed. We recommend you clean your pieces with a soft dry jewelry cloth.
Suede/Stone Wrap - Rose Quartz/Silver/Stone of the Heart
Shipping Information

Fast shipping

Most orders are shipped within 1-3 business days. United States orders take 2-3 business days for delivery when using USPS Priority Mail. Between processing and shipping, you can expect to receive your order in less than a week. However, in most cases, you will receive it in 2-4 business days.

*International orders take 5-10 days for delivery once processed and shipped. 

Order tracking

Check your email upon ordering for email updates about tracking your order.

Get in touch

You can email us at info@nespolijewelers.com or call us at 570-759-9675